Description
Avalon, a Half-Arabian mare out of Catalina and is the first collaboration between myself and Stacey Tumlinson.
Stacey Tumlinson
Catalina Sculptor
Debbi LerMond
Avalon Sculptor
Avalon Specifications
Half Arabian Mare
Large Traditional
Length – Tail to Nose 13¾"
Height – Hoof to Mane 9½"
Width – 5″
Hollowcast White Resin
Weight 12 ounces w/o bases
Magne-Click (N52) 
Laser cut 2½" steel bases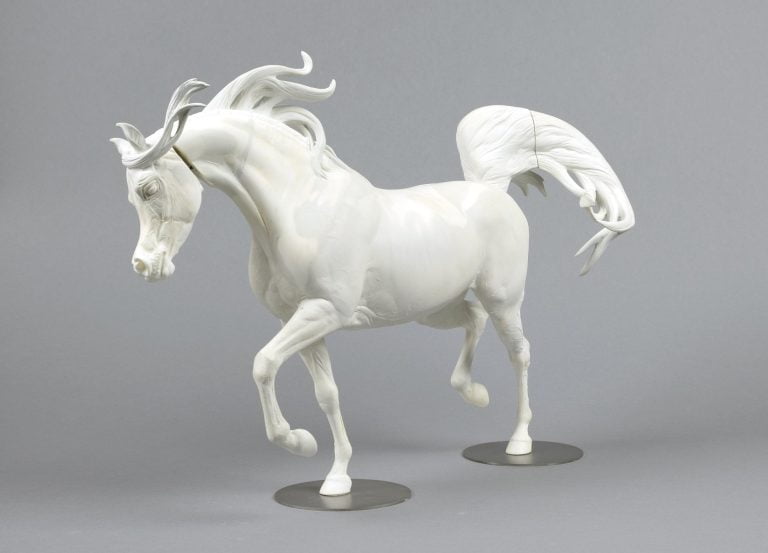 Avalon is the first collaboration between myself and Stacey Tumlinson. Since I originally cast the Catalina edition for Stacey, I received several castings to pay for the mold making. One of them, I CM'd and sent to Caroline Boydston to paint. I did quite a bit of work on her but did this over 5 years ago. I boxed her up when we moved across the mountain pass so she just stayed in storage for a few years. I finally hand delivered her to Caroline a year ago but when Caroline started painting on her, she said it would be better if I reworked her again. I had done the CMing when I was going through a lot of turmoil with the Sculpting Studio trying to get a high speed carver made. This turmoil translated into my art and the poor CM Catalina needed another make-over because her eyes didn't line up properly. Caroline shipped her back to me and when I took a look at her after not laying eyes on her for over 4 years (she was boxed up through the moving) I thought to myself, "What was I thinking?" Before I cut off the head, I wondered how long was this going to take to realign her eyes again and then an epiphany hit me! There was an Elayna head laying on my workbench and I held it in front of the Catalina head to see if the size would work. It was a perfect match! So I cut off the head, pinned it onto the body and sent photos to Stacey. Avalon still had the CM tail which was very long and low. Stacey suggested giving her a flippy tail and I wholeheartedly agreed! So I cut off the tail, drilled a hole, inserted a wire and sent new photos to Stacey. She gave me an enthusiastic thumbs up! So Avalon was born and she morphed into "Frankie" Avalon because Larry gave her the name in the first place. While communicating back and forth on FaceBook, he gave a link to "Beach Blanket Bingo" and Frankie just stuck! When Larry was 12 years old, he won a trip to Catalina Island and got to explore Avalon which left a lasting impression on him.
Larry (left, looking at camera) on his way to Avalon, Catalina Island.
I am so excited to share the nearly finished Avalon with you as we enter the home stretch. She is in pieces for casting purposes but in the meantime, I photographed her put together so she looks like a whole horse. Now you know why I called her, "Frankie"! The gap in the neck will obviously be gone when she is assembled and her forelock will be attached a bit lower but at least you can get an idea of what she looks like at this point. I am still smoothing, adding veins and softening her head, body, legs, mane and tail. As I just added more clay, some of the veins are rough and still need to be tooled finer and softened with my Vortex F5 carver. This is what takes so long but the end result is SO worth it. Hand tight because Avalon is about to be born!
Finishing up Avalon's details is an intensive exercise of Pareto's 80/20 Principle. When it looks like the model is ready to cast, that is when all the work begins. Sure, I could call it good and mold Avalon smooth and without fine details, but that is not how I sculpt and I know you expect more from me. It's a constant three steps forward – two steps back scenario where I tool out, sand and modify areas to smooth the muscles, veins and wrinkles so they appear soft and natural. Sometimes, I end up taking off too much and have to repeat the steps again. It feels like an exercise in futility but eventually, I get close to 99% where I can say I'm done and I can start molding her. (When I was young, I was a perfectionist. Soon I realized I'd never get to 100% perfect and my artwork would never be finished. So I settled for 99%)
I had to cut Avalon in to pieces so I could tool her tight crevices around her tail, hind legs, head and forelock. She has alignment pins in her so I can view her as a whole. I figure that I have a couple more weeks to do the finishing. Then Avalon will be at 99% and I'll mold and cast her. The molding process takes another 2 weeks so expect the first casting to come out in a month. I know others can make a mold in just a couple of days, but I make my multi piece molds to reduce the amount of work I need to do to clean up my models after casting. I spend the time doing an exceptionally good job creating the mold so I get great castings requiring less clean up work in the long run.