To answer this question requires an understanding what the spindle does and how it does it. Take a look at this photo. Above is the spindle with a dummy bur inserted. The button on the right side is depressed to release the bur. Looking at the X-ray view, a  push button shown in green presses against the spring shown in red. When the button is pushed, the spring is compressed causing it to expand slightly, thus release its grip on the bur. This spring is the "collet."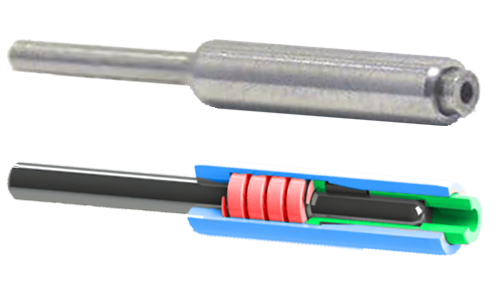 Dust and debris is the major cause of your bur being lose or even falling out your carver. It is the bur itself that is transporting debris into the spindle, and therein lies the problem. This debris gets caught in the coil of the spring. Once the gap between each coil become clogged, the spring can no longer grip the bur. The solution of course is to break lose the build-up on the spring and flush out the debris. 
We have developed a cleaning process that works well to break the build-up of debris on the spindle spring and flush it out at the same time. It is called "Spindle Cleaner" for lack of a better marketing term. Our Spindle Cleaner contains 1/2  fluid ounce (15ml ) of non-toxic cleaner designed to dissolve the debris and not harm the turbine bearings or o-rings.
Back Cap - Open Detent Position

Back Cap - Close Detent Position

Step-By-Step Vortex F5 Spindle Cleaning Guide
Place a paper towel on you counter. This will capture the cleaner during flushing.
Remove bur from your carver
Turn the back cap to the "open" position. This will prevent cleaner from entering the bearings.
Hold your carver horizontally
Insert cleaner needle into spindle until it stops. Now move it back about 1/8 of an inch.
Squeeze the bottle until cleaner begins to run out of the spindle
Remove the needle from spindle
Hold your carver vertical with the nosecone pointed down towards the paper towel
Work the back cap by opening and closing it several times
Repeat steps 3 – 8 two more time
Close the back cap without a bur in the spindle and run the tools for 10 seconds to remove remaining cleaner